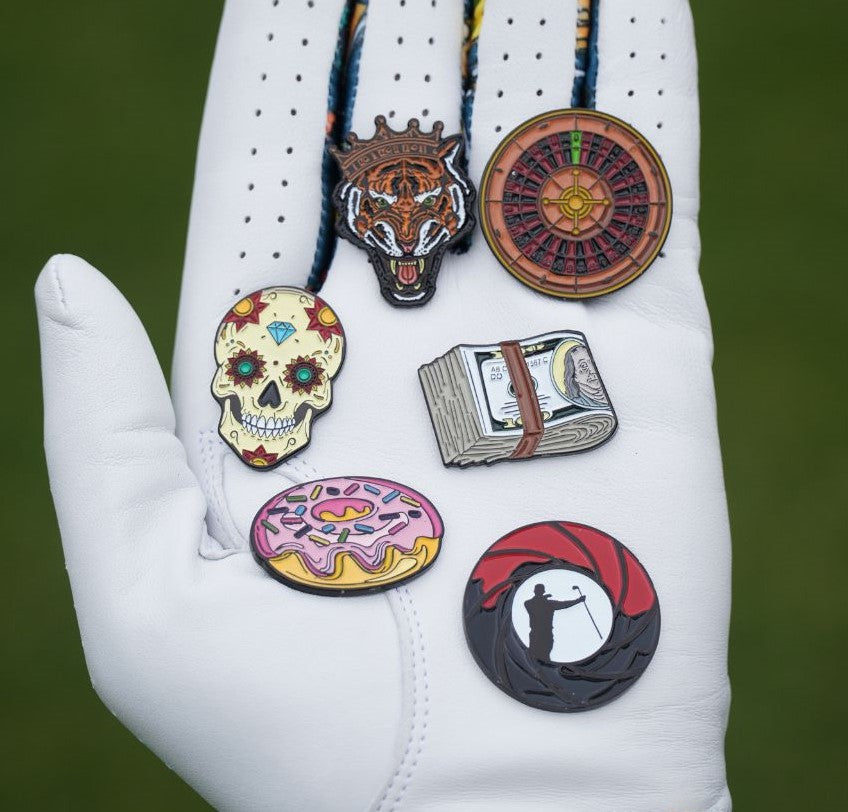 Don't Just Mark Your Ball.
- Unique designs crafted with immense detail and meticulous precision.
- Coming in at c.10g (~£1 coin), giving you that quality feel of a heavy-weight ball marker in hand.
- Easily attracts to any magnet surface, tool or hat clip.
Ball Marker FAQs
Why ball markers over coins?

Sure, you could use an old coin that was stuffed in your bag, or worse yet, a tee that sticks its ugly head out of the ground as you apologise to your partner.

Ball markers should be viewed as both statement and functional pieces of golf equipment. You want something that you love - the design, colours, character and look all play a factor here.

You also need something functional - the right size and weight to properly hold its ground while marking your ball.

So yes, it's worth investing in a proper ball marker that you'll over and over again.
How heavy are your ball markers?

They're about as thick as a £1 coin and have the same approximate weight too.

You'll notice the heavy-weight feel in your hand vs. the standard coins that you're used to carrying around.

This will feel good in your pocket, keep a nice firm footing on the green and gives it that quality feel that you know and love.
Are they available in store?

We only sell our ball markers on this website, so you've come to the right place to get your hands on 'em.
Will your sold out designs come back?

Most of our ball marker designs are limited edition and will only be launched once.

We may restock some of your favourites when they run out, but if you see 'em in stock, best to grab them before they run out again!