Regular price
Sale price
£18.99
Unit price
per
Sale
Coming soon
Dia de los Muertos: 
Several people come to mind when you think of killers in the world of golf: Tiger, Rahm, Scottie. These are the ones who you don't want to face one on one. If you're coming up against one of these, you're gonna need your A-game.
Immense Quality & Durability

- AAA cabretta leather that's soft and luxurious.

- Extremely durable, built to last long.

- Epic designs that are true in colour and style. 
Fast Shipping, Easy Returns

Fast Delivery: UK shipping delivered in 48hrs. International shipping times vary depending on country.

Returns & Exchanges: We have an easy and hassle-free returns and exchange policy. Just get in touch with us at info@skinsgolf.com and we'll send you a link to our portal.
FREE Pouch Included

You'll receive a Skins Golf Pouch with every golf glove ordered to store your glove and give them that extra bit of longevity.
Size Guide

Recommended glove size: Measure the circumference around your knuckles.

Mens

Small = 7.75-8.0 inches

Medium = 8.0-8.25 inches

Medium/Large = 8.25-8.75 inches

Large = 8.75-9.0 inches

Extra-Large = 9.0-9.25 inches

Womens

Small = 6.5-7.0 inches

Medium = 7.0-7.25 inches

Medium/Large = 7.25-7.5 inches

Large = 7.5-7.75 inches

Sizing Tips:

• The fit should be tight, like a second skin.
• Bear in mind that our gloves are made with cabretta leather, which tends to slightly stretch as you play multiple rounds.
• The most commonly sold men's size is Medium/Large, while women's is Medium.
View full details
Customer Reviews
16 Oct 2022
Ciaran O.

United Kingdom
Great Quality Glove
I'm really impressed by the quality of the glove overall. Its a great fit and makes swinging a club feel great. Will definitely be buying again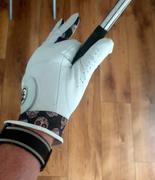 16 Aug 2022
Andrew P.

United Kingdom
RIP FootJoy!!!
Ordered a few gloves in different styles and have been really pleased with them. The fit is good, I (used to) wear a FootJoy medium and these are bang on. The gloves arrived very quickly and the packaging feels like a premium product. The gloves look and feel great and the leather feels very high quality. They are soft, but not as soft as the pure touch (which is excusable given they are nearly half the price). Given my experience, I will be buying all my gloves from Skins golf going forwards, and supporting a small business is the icing on the cake!
Thanks so much for this Andrew! FJ are a fantastic brand, so we really appreciate these words and the support for a new brand!
AAA Cabretta Leather
Superior fit, feel and comfort that conforms to The R&A and USGA standards. Our gloves have been made for the charismatic & professional alike.
Crafted for the Creative
Offering a balance of performance, durability and swagger, our gloves have been designed with the greatest level of detail and attention.
Built to Last
You'll receive a Skins Golf Pouch with every golf glove ordered to store your glove and give them that extra bit of longevity.